Town is a five line Assault map set in a medium sized village. The map belongs to the French Countryside series of maps.
Assault Lines
Town consists of five Assault lines: A, B, C, D, and E.
A Line
A line starts in the northwest area of the map with an emphasis on open field and forest combat.
A-1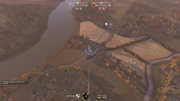 A-1 consists of a large plantation house with two garages and an avenue leading to the main road. The courtyard of the house has a cast-iron fence perimeter that consists of three gateways: one leading to A-3 and E-4 (left), one leading to the main road (front), and one leading to the A-1 Attacker spawn (right). There is a foxhole with an AA Gun on the right side of the house. The entrance to the courtyard features a guard post with an assortment of small fortifications.
A-2
A-3
A-4
B Line
B line starts in the northeast area of the map with an emphasis on downhill forest combat.
B-1
B-2
B-3
B-4
C Line
C line starts in the southeast area of the map with an emphasis on rural combat and bridge assault.
C-1
C-2
C-3
C-4
D Line
D line starts in the south area of the map with an emphasis on forest combat.
D-1
D-2
D-3
D-4
E Line
E line starts in the west area of the map with an emphasis on downhill and forest combat.
E-1
E-2
E-3
E-4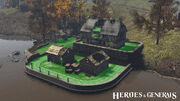 Objectives
O1
O2
Gallery
Trivia
Town originally featured a

Pontoon Bridge

alongside the ruined bridge on B line.
Town's full name is actually Medium French Village with

Village

being referred to as Small French Village. At some point during the development of the game, there was going to be three French Village maps with Village (skirmish) being the smallest, Town being the medium, and an unnamed third map being the largest.
The speakers throughout the town originally played recordings of speeches by

Adolf Hitler

. These recordings were later removed due to fear of legal action by the German government.
In early iterations of the Church, the interior was decorated with EU-friendly versions of the Reichskriegsflagge which featured an altered version of the Iron Cross in the place of the Swastika. These flags were removed despite their censored appearance in fear of hypothetical legal action.
The location of the C-4 defender spawn was originally occupied by a partially destroyed building.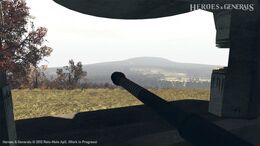 Early screenshots of the map depicted artillery batteries. These were cut before they were ever featured in any playable version of the game.